Home >> FAQ




£±£©How to upgrade firmware program ?
TIP: Firmware upgrade process will format the device. Please backup your important data before upgrading.
To get the latest version of the firmware, you can upgrade the firmware following these steps (Take EM835S as example) :
(1) Install the enclosed driver first.
(2) Connect the player to the PC.
(3) Click "Start" → "Program" → EM835S Audio Digital MP3 Player, and select "Firmware Update".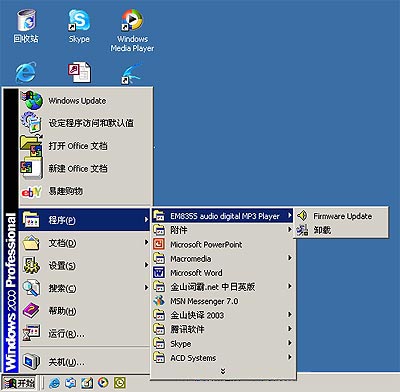 (4) You are guided to the following upgrade dialogue. If "Format Date Area" is selected£¬all files stored in the player will be erased.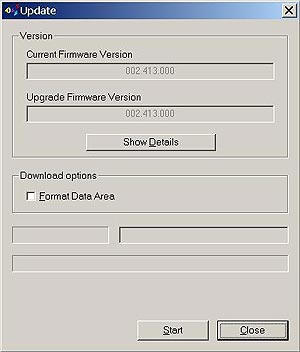 5) Press the "Start" button to start upgrading.

Note: (1) If the upgrade is failed, you can hold down the key and connect the player to the PC through the USB port, and then re-upgrade the firmware.

(2) If you restart the device after upgrade, you will be prompted to choose display language firstly.

£²£©Can I connect the USB Flash Disk with the host that supports USB 2.0?

Yes. But user should confirm whether the USB2.0 driver in the PC has been installed properly, or connection may be failed. (If you find the equipment has a "!" under "equipment controller"→ "USB Controller" or there is no "USB 2.0 Root Hub", that means you did not install the USB2.0 driver properly on the PC.)

£³£©Can USB Flash Disk be shared in Local Area Network?

Yes, you can operate it just as a local hard disk.

£´£©When I unplug the USB Flash Disk after the computer indicates accomplishment of copy process, it prompts that files have not been copied completely yet, Why?

Since the operating system provides buffer space for data storage, the rate of progress does not equal to the real accomplishment of data copy. User should notice the LED indicator. If it is still fast flashing, you cannot unplug the USB Flash Disk. When you confirm it is not fast flashing in a certain period (2 seconds usually), then you can unplug it.

£µ£©When large amount of files (less than the theoretic capacity) are copied, why the computer indicate, "The real capacity is not enough"?

For the USB Flash Disk, space for individual file is set as 16k, while for local hard disk, the space is set as 4~8k. Consequently, for the same file, the space in the USB Flash Disk is larger than that in the hard disk.

£¶£©Under Windows 98/SE operating system, why blue screens are caused by the plug and unplug operation sometimes?

You can resolve the problem by pressing any key or re-plugging the USB Flash Disk and then pressing any key. The proper operation is as follows: Make sure all the files located in the USB Flash Disk are not using before unplugging the USB Flash Disk.

£·£©Under Windows ME or Windows 2000 operating system, I unplugged the USB Flash Disk in the proper way, but the computer indicates "Unsafe Removal of Device". Why?

It is caused by improper operation. The proper operation is as follows: click Safely Remove Hardware icon at the right bottom of the taskbar → click "Stop" button → click "OK"→Plug the USB Flash Disk out of the USB port after the removable disk icon disappear from My Computer.

£¸£©Is it OK to pull out the USB Flash Disk when the light glitters?

No, you could not. Otherwise, the data in the disk should lose or the blue screen should appear.

£¹£©What does the light of USB Flash Disk indicate?

It is in standby mode when the light is on. It is in read/write status when the light glitters.

£±£°£©Why available disk space is less than the identified value?

Because the USB Flash Disk utility shares some of space, and some of space is used as exchange area to enhance writing and reading speed.


Got questions? E-mail us: Sales@Synortic.com or chat with our friendly sales associate using Skype or MSN messenger


Sales Inquiries: sales@synortic.com

Support: info@synortic.com

Tel: 0086 755 28220731

Fax: 0086 755 28220731
ADD: 2/F, Bldg.E Shangxue industrial area, bantian town, Longgang district, Shenzhen city, Guangdong province, China 518129